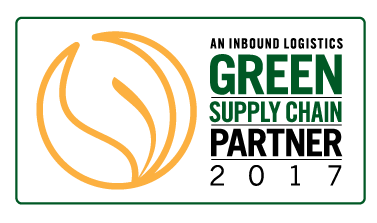 VersaCold is proud to announce that we have been named one of Inbound Logistics' 75 Green Supply Chain Partners (G75) this year. The list profiles organizations that demonstrate an ongoing commitment to "sustainable supply chain, logistics and transportation practices." Recognition such as this reinforces VersaCold's commitment to providing sustainable solutions to our customers and being their trusted partner in building a more sustainable planet.
The G75 list is chosen by Inbound Logistics editors based on several categories such as a company's corporate sustainability initiatives, public-private partnerships and collaborations on customer-driven projects. These categories are measured against four benchmarks of measurable green results, evidence of continuous improvement, sustainability innovations and industry recognition.
We look forward to continuing to lead by example while making progress toward our goals of protecting the environment and reducing our impact on resources.
---
Learn more about VersaCold green initiatives
Learn Why VersaCold Chooses Bullfrog Power to Fuel Our Vancouver Corporate Office
Why is SmartWay Certification Important to Our Customers?
---
click here to see the full list of G75 companies and continue reading to learn more about why Inbound Logistics considers VersaCold a Green Supply Chain Partner.
At VersaCold, the belief that success today should not come at the price of tomorrow is behind every decision we make. We consider it our mission to continuously invest in finding new ways to reduce the ecological impact of our operations, and we have carried out several key green initiatives in our facilities, such as:
Retrofitting existing facilities with high-efficiency lighting, roofing and charging systems for their materials handling equipment
Installing rainwater and defrost condensation collection systems and reduced-flow faucets
Partnering with Bullfrog Power to reduce the CO2 emissions footprint of our Vancouver Head Office
Replacing standard efficiency motors with premium efficiency motors (and variable frequency drives, where appropriate)
Educating our engineering teams and employees on ways to reduce energy consumption at their sites and giving them advanced tools, such as near-real-time monitoring, to keep consumption under control
All initiatives are guided by VersaCold's Corporate Environmental Policy that sets out core procedures for all VersaCold employees to follow. Click here to read more about our environmental policy and sustainability initiatives.
---
If you would like more information about how VersaCold sustainability initiatives can benefit your company, please contact one of our Sales Specialists today at sales@versacold.com or 1-800-563-COLD and let us show you why we are the right choice for your business.