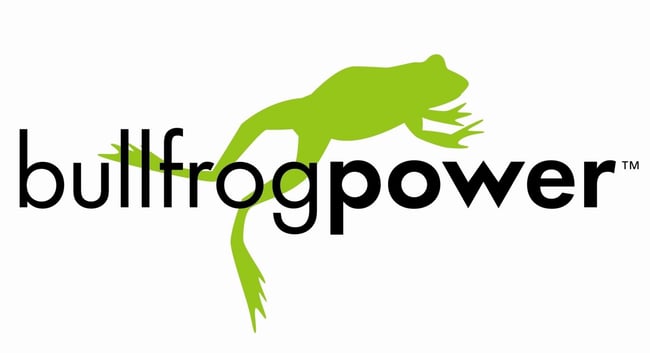 In March of 2016, VersaCold made the switch to Bullfrog Power's green electricity and green natural gas products to fuel our Vancouver corporate office. This move represents another big step towards achieving greater environmental responsibility for our company, and we are more than excited to add this to our growing list of initiatives that we have undertaken in recent years. These initiatives include:
Retrofitting existing facilities with high-efficiency lighting, roofing, and charging systems for our materials handling equipment
Replacing standard efficiency motors with premium efficiency motors (and variable frequency drives, where appropriate)
Educating our engineering teams and employees on ways to reduce energy consumption at their sites and giving them advanced tools, such as near-real-time monitoring, to keep consumption under control
Ensuring all expansions and new buildings have minimal environmental impact
Increasing the amount of energy conserved by our trucks through the introduction of fuel efficient reefers, on board computers to manage vehicle efficiency, technology that minimizes wasted miles and air skirts on trailers.
If you want to learn more about our sustainability initiatives, please click here. To find out more about why we chose Bullfrog Power, keep reading.
What is Bullfrog Power?
Bullfrog Power is considered the leading green energy provider in Canada and has a simple but powerful vision: to transform the energy landscape in Canada by offering a green energy choice where one did not exist before. How does one company go about changing how we approach energy in Canada? They start by adding clean and renewable energy resources to the grid on behalf of its customers. Since 2005, Bullfrog Power has added more than three million megawatt hours (MWh) of green electricity to the grid and has funded over 60 green energy projects in Canada.
How do they add green energy sources in the form of electricity and natural gas to the power grid?
The ways we as a society typically generate electricity can be damaging to our environment due to our reliance on fossil fuels such as coal, oil, and gas. These sources of energy produce not only greenhouse gases but also other major pollutants, such as carcinogens, sulphur dioxides, and nitrogen oxides.
Bullfrog Power approaches electricity differently by generating electricity from a blend of renewable energy facilities that include wind farms and low-impact hydro. These sources of energy are among the cleanest available and meet a range of environmental criteria to achieve their high standards.
Similarly, green natural gas by Bullfrog Power is turning our perception of this energy form on its head. No longer forced to rely on traditional fossil fuels, Bullfrog Power creates natural gas from organic food waste found in Canadian landfills. This gas is harnessed onsite from decaying materials and then cleaned before being added to the national pipeline. By utilizing this pre-existing resource, green natural gas only releases carbon dioxide as a by-product, which is already part of the natural carbon cycle.
Why Bullfrog Power?
If their processes and history are not enough to prove why they are the right choice to fuel our Vancouver head office, then consider the standards Bullfrog Power holds itself to and the endorsements they have received. Here are just a few they are proud to showcase:
Endorsed by WWF-Canada and the David Suzuki Foundation
Maintain strict environmental standards as defined by ICF International
Audited by Deloitte annually to ensure that renewable energy was produced and accurately counted and credited to their customers
-----
Click here to read more about what Bullfrog Power is doing to create a more sustainable planet, and make sure to visit our website to see what other initiatives VersaCold has undertaken as part of our sustainability strategy.
Contact one of our Sales Specialists today and let us show you why we are the right choice for your business. sales@versacold.com or 1-800-563-COLD