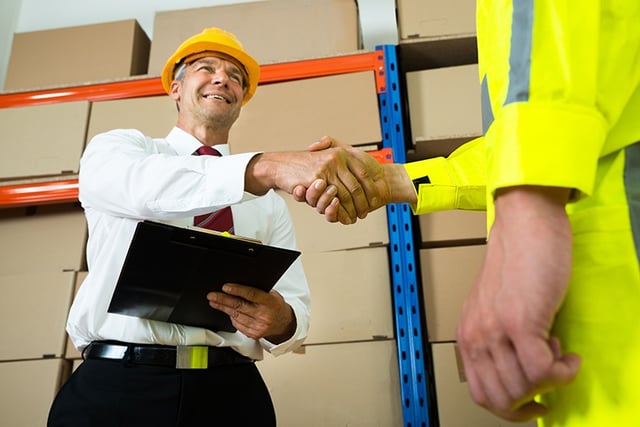 In the world of supply chain management, 4th party logistics (4PL) is a term that comes up often, but what does it actually mean for your company? How is it different from 3rd party logistics? It's time to answer these questions and more as we take a closer look at 4th party logistics.
While 3rd party logistics has roots in the industry tracing as far back as the 1970s, 4th party logistics has really only entered the conversation over the past 20 years. The term was first registered in 1996, by a company called Accenture, and was defined as "a supply chain integrator that assembles and manages the resources, capabilities, and technology of its own organization with those of a complementary service provider to deliver a comprehensive supply chain solution." While the trademark on the term has since expired and is no longer registered, 4PL services as defined by Accenture are still being offered today to help many companies around the world bridge the gap between asset ownership and logistics expertise.
So what exactly is 4PL and how does it differ from 3PL? Read more to find out.
What does 4PL look like in the modern supply chain?
4th party logistics is a term that we consider to be used inaccurately by many providers whose services are more comparable to that of a freight broker. While freight brokerage can be an essential element in any supply chain, what makes up true 4PL services is much more than that.
4PL is a very advanced form of outsourcing that brings industry expertise, innovative technology, and deep analytics to develop customized supply chain solutions for customers. These solutions utilize existing customer assets, such as warehouses and transportation networks, to effectively manage and optimize a client's supply chain. 4PL can also have the added benefit of increasing revenue growth by opening geographic and product markets that might not be easily available to the customer without 4PL services.
4PL provides customers with peace of mind because they know that their logistics provider can adapt quickly, help achieve business objectives and make the day-to-day decisions that are right for their unique supply chain.
What sets 4PL apart from 3PL?
When it comes to outsourcing a supply chain to a trusted provider, the line between what is considered to be 3PL and 4PL can appear blurred at times. However, while both services are strategic drivers for mid-tier and large-sized companies, some core differences should be considered before deciding which service is best for your business.
Luckily, we have to look no further than the CSCMP and the excellent list they compiled of some unique features of 4PL worth considering:
A 4PL organization is often a separate entity – established as a joint venture or long-term contract between a primary client and one or more partners
A 4PL organization acts as a single interface between the client and multiple logistics service providers
All aspects (ideally) of the client's supply chain are managed by the 4PL organization
A major 3rd party logistics provider could form a 4PL organization within its existing structure
In addition to this list, we would also add that another important differentiator is that the relationship with a 4PL provider is often so immersive that people outside the company are unable to tell the difference between the logistics provider and the company. This level of integration is key to what makes 4PL an appealing option for businesses looking externally to optimize their supply chain.
-----
Hopefully, by now you can see why many businesses have increasingly turned to 4PL solutions in recent years to manage their supply chain. Here are just a few of the key reasons we've explored in this article:
The ability to leverage years of expertise without the time commitment that would be required internally
Access to significant technology investments that providers have made to remain innovative in the market
Providers have far-reaching and advanced capabilities when it comes to obtaining and executing based on deep analytics
A company can rely on a strategic partner that brings core competencies of supply chain to the table
4PL services are capable of making quick shifts in a network based on an in-depth understanding of customer needs
Have any questions about 4PL? Want to know what logistic support can do for your company? Leave a comment or contact one of our Sales Specialists today and let us show you why we are the right choice for your business. sales@versacold.com or 1-800-563-COLD