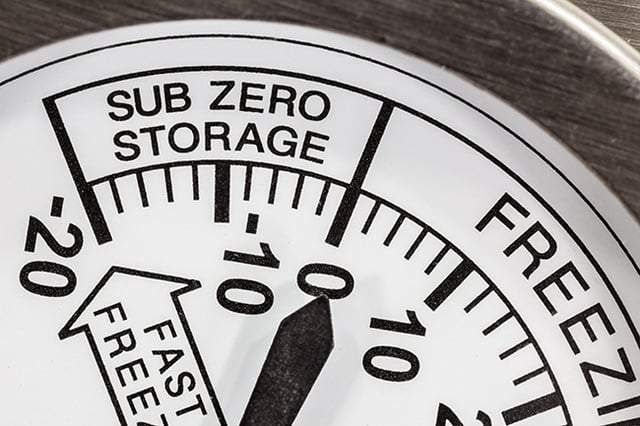 Here at VersaCold, we take cold chain compliance very seriously. If our facilities and vehicles are even a degree too hot or too cold, we can be putting our clients and their customers' safety at risk. That is why we make it our duty to ensure the quality and regulatory compliance of our clients' products at every moment that they're in our custody.
Moses Akingbade, VersaCold's Director of Cold Chain Assurance, revealed to us the seven keys to cold chain compliance that we ask our employees to follow each and every day:
1) Know the numbers
Every product or product type has a unique temperature range, and it is our job to make sure that our employees understand and adhere to these acceptable ranges. Our attention to detail and due diligence is an expectation of our clients and an important part of how we run our business. That is why our employees always go out of their way to determine any additional temperature specifications from our customers to ensure maximum safety and maintain the quality of their products.
2) Be aware of stager danger
Temperature abuse, meaning an undesired change in acceptable temperature, occurs more often than not on loading docks. Even docks that are refrigerated can have temperature abuse occur either before shipping or post-receipt of a shipment. Armed with this knowledge, our team of experts proactively avoid temperature abuse by minimizing staging time whenever possible with precautions such as keeping products in temperature-controlled environments until just before loading. If an employee is ever unsure of how long a product can stay on the dock, there is always a manager nearby to advise and ensure that we are meeting compliance standards.
3) Always confirm truck reefer settings and box temperature
We task VersaCold employees with confirming that a truck's reefer setting is always correct before loading or unloading a truck. We will often double- and triple-check to achieve this goal —better safe than sorry when it comes to our customers' products. Truck drivers also know that an important part of maintaining the right box temperature is keeping vehicle doors closed until the last possible moment.
This constant vigilance and monitoring is the key to compliance and how customers know they can trust VersaCold with their temperature-sensitive products.
4) Don't block air flow when loading
Each temperature-sensitive product has different airflow needs while in our controlled environments. For instance, frozen goods typically need only external heat entering the cargo to be dissipated, while refrigerated fruits and vegetables need airflow and internally-generated respiration heat to be dissipated. Our employees are mindful of these factors at every stage of transport, particularly during the loading phases when airflow is prone to be interrupted. As part of our compliance efforts, we ensure that employees always follow standard operation procedures as they relate to the required airflow and carefully follow the loading specs for the product.
5) Keep proper documentation
At VersaCold, we know the importance of proper documentation at every step in our process. Without it, our efforts to maintain compliance standards with regulatory and customers' requirements would go to waste. Insufficient documentation can also hinder our ability to take corrective action when a deviation occurs, and that's not good for the client or the company.
That is why we ensure all of our records are complete, legible and accurate at all times.
6) Do it right the first time
Temperature-sensitive products can suffer irreversible decreases in quality and product safety from temperature abuse. A single incident of abuse has the potential to damage our customers' brands and reputations as well as our own. That is why we firmly believe in doing work right the first time, and this is why we consistently review and follow Standard Operation Procedures (SOPs)
We always remind ourselves that excellence does not happen on its own—it requires a lot of hard work. That is why our employees take the time to learn product temperatures and specific customer requirements. When the answer is not clear, each employee knows they can go to their supervisor or the cold chain assurance team member in their region for clarification and guidance. Our attention to detail is all part of the performance-driven culture that influences every aspect of our business, and it is the key reason why companies choose VersaCold to be their logistics partner.
------
Would you like more information on why VersaCold is the right logistics partner for your temperature-sensitive products? Contact one of our Sales Specialists today and let us show you why we are the right choice for your business. sales@versacold.com or 1-800-563-COLD