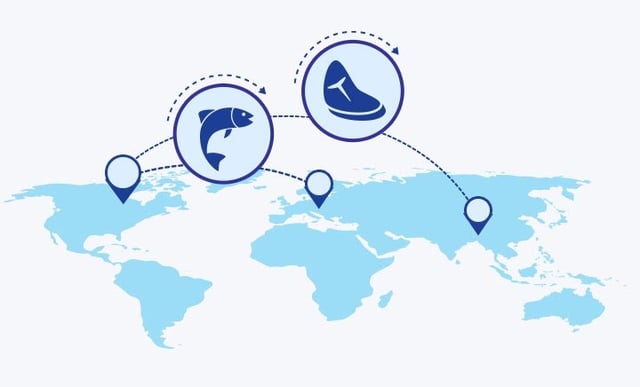 At VersaCold, we take nothing more seriously than being our customers most trusted and long-term partner. We fulfil this commitment every day through our performance-driven culture that leverages technology, employee skills and investment in highly efficient logistics infrastructure to support customers in today's evolving global markets. As part of that ongoing support, VersaCold is proud to operate the largest geographical footprint of Canadian refrigerated warehousing facilities that have the approvals to export fish and beef to China and the European Union.
What does this mean for our clients? Read more to find out.
Ten VersaCold Facilities Have Received Approval to Export Meat and Meat Products to China
VersaCold is proud to own and operate ten of the total thirty-one Canadian refrigerated warehousing facilities that have the approval to export meat and meat products to China. All ten of the VersaCold refrigerated warehousing facilities, located across Canada, went through a rigorous review process that met the requirements of the Meat Inspection Act and the Chinese veterinary hygiene and public health regulations. VersaCold engaged with senior government officials, retained the services of legal firms, and worked with industry groups in both Canada and China to meet the stringent requirements of the approval process.
"We are extremely proud to have the largest number of refrigerated warehouses in Canada approved to export beef and pork to China," said Douglas Harrison, President and CEO of VersaCold. "We have spent several years focused on enhancing many of our services, offerings and expertise to best support our customers' and the industry's evolving and complex needs in both the local and global marketplace. Our exceptional food safety and cold-chain quality assurance practices and our collaborative efforts to obtain these important approvals are proof of our dedication to supporting our customers in their global growth efforts and to being their most trusted, long-term partner. We fully intend to continue to expand our reach globally in key markets such as China and to always be looking for new and innovative solutions and services that will drive business success and revenue growth for our valued customers within the highly sensitive and regulated environments in which they operate."
Seventeen VersaCold Facilities Have Been Approved to Export Fish to the EU and China
VersaCold owns and operates eleven refrigerated warehousing facilities that have received approval to export fish to the People's Republic of China, and six more have been approved to export fish to the European Union (EU). With these approvals, VersaCold now operates a total of 17 refrigerated warehousing facilities in Canada that are approved to export fish to these two key global markets. The approved facilities – located in British Columbia, Alberta, Manitoba, Quebec, New Brunswick, Newfoundland and Labrador, and Nova Scotia – comply with all aspects of the Fish Inspection Act and Regulations, and were approved following a rigorous review process.
"VersaCold is always seeking opportunities to confidently meet the growing needs of our customers and we are extremely proud of these approvals to export fish to two key global markets," said Douglas Harrison, President and CEO of VersaCold. "Last fall, we announced our approval to export beef and pork to China, and at that time I noted that we would strive to expand our reach globally. In light of the most recent developments with CETA, and the anticipated reductions in fish export tariffs, it's more important than ever for Canadian businesses to look to key markets like Europe for their growth ambitions. Today's announcement affirms our commitment to supporting our customers as they adapt to a changing global marketplace and is proof of our dedication to being their most trusted, long-term partner. Business success and revenue growth for our valued customers is our utmost priority, and we will continue to expand our service offering and the regulatory approvals of our facilities to help our customers achieve a competitive edge."
---
Interested in what VersaCold can do for your company? Contact one of our Sales Specialists today and let us show you why we are the right choice for your business. sales@versacold.com or 1-800-563-COLD