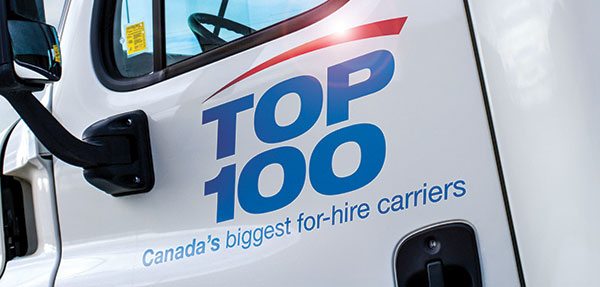 We are proud to announce that VersaCold has been ranked 29th by Today's Trucking "Top 100 Canada's biggest for-hire carriers" list.
Started in 1987, Today's Trucking is the premier business magazine and information resource for the Canadian trucking industry. The top 100 list is the annual tally of the nation's top for-hire fleets in Canada, and it offers a by-the-numbers look at which companies are improving capacity and which are contracting in the market. 2017 marks the first year that VersaCold has made the top 100 list, coming in with a total of 32 trucks, 675 tractors, 985 trailers and 810 0/0s. These numbers show a significant amount of growth over the years and are the result of several strategic initatives.
This jump into the top 100 list caps off a year of significant growth for VersaCold with the key acquisitions of CPX and Gary Heer, as well as the increase of LCV offerings. Click here to read more about the growth VersaCold has undertaken throughout the past year.
Strategic acquistions
The year of 2016 stood out as an exciting time of growth and service expansion for VersaCold, with two major strategic acquisitions taking place. On February 9, 2016, VersaCold acquired the assets of Gary Heer Transport Ltd., expanding cross-border service offerings between Western Canada and the United States. This was followed up with the acquisition of Coastal Pacific Xpress (CPX) on March 14, 2016, BC's largest refrigerated carrier specializing in the shipping of perishable and ambient products throughout Canada and the United States. Both acquisitions were viewed as a significant step towards reaching VersaCold's goal of being Canada's premier, fully integrated, total supply chain solutions provider.
If you would like to read more about these acquisitions, please click on the links below:
LCV's have transformed VersaCold's transportation network
As of June 2015, VersaCold has begun incorporating long combination vehicles (LCVs) into its national transportation network. The adoption of LCVs allows clients to maintain competitive transportation costs by reducing overall fuel consumption and the number of trucks required on the road. VersaCold's fleet is now capable of travelling 100,000 fewer miles to deliver similar volumes than it would have in the past and provides significant benefits to its valued customers.
If you would like to learn more about LCVs, please click on the link below:
---
With customers increasingly looking for complete supply chain solutions, VersaCold has seen significant growth in the area of transportation-related services and is pleased to see that reflected in Today's Trucking "Top 100 Canada's biggest for-hire carriers" list. If you would like more information about VersaCold's transportation services, please contact one of our Sales Specialists today and let us show you why we are the right choice for your business. sales@versacold.com or 1-800-563-COLD