Introducing an expanded partnership…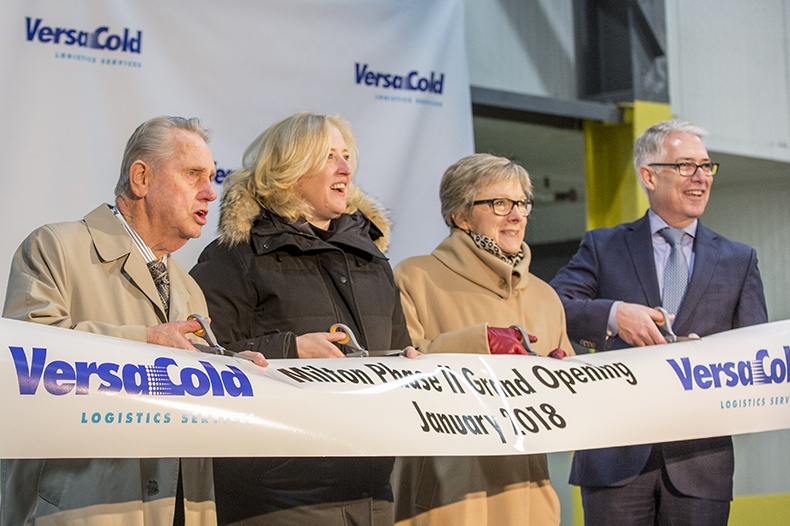 What makes a strategic partnership? And shouldn't all partnerships be strategic to a large extent? While these questions may seem somewhat rhetorical—and in fact they are—in the business sense, a strong strategic partnership should benefit both parties in ways that could not otherwise be accomplished exclusively. And the strongest partnerships continue to build and grow, lasting for years to come.
To start off 2018, we at VersaCold are very pleased to announce a recent strategic partnership that has been a number of years in the making—and the fruits of that partnership will culminate with one of the largest third party, single-site, cold supply warehouses in Canada (not including the arctic circle, of course).
Moving forward, our new expanded partnership with Nestlé Canada will enable us to handle and store a major portion of their product lines for the Greater Toronto Area, including pizza, professional beverage, meals and ice cream. The idea is to drive more distribution efficiency for Nestlé by storing a significantly larger portion of their product under one giant roof at one location. With this single-site solution, they'll be able to achieve transportation cost efficiencies as well as reduce administrative and operational costs.
"This investment in VersaCold's infrastructure is one of several our organization has made over the last few years, and is indicative of our commitment to growth and responding to our client's needs," explains Douglas Harrison, President & CEO of VersaCold. "We are excited to demonstrate our leadership within the Canadian marketplace, by partnering with Nestlé and demonstrating the deep commitment to safety, quality and freshness that is at the heart of the VersaCold brand".
Milton Ontario has been scouted as the home for this new super warehouse that by the end of 2019, will boast over 19.1 million cubic feet of pure unadulterated cold—that is to say, high-tech refrigeration storage, split between freezer spaces and cooler spaces. The original facility, a former Sobey's warehouse, was acquired by VersaCold in 2016. And from there we began undertaking the massive overall of the building's technological and infrastructural capabilities, as well as its geographical footprint.
We are very excited for the roll-out of this project. Phase One launched in late November 2017, where we started inbounding roughly 7,500 pallets of Nestlé's pizza products. On January 11th of this year, Phase Two started where outbounding of pizza has begun to both Eastern and Western Canada. Over the course of the year it's expected that more and more products will be distributed from the new facility. And then in December of 2018 Phase Three will be finished, when all building advancements, upgrades and additions are complete and ready to accommodate Nestlé's greater product line as well as provide storage for our greater customer base.
The new and improved centre at 2701 High Point Drive in Milton is VersaCold's 32nd warehouse facility in Canada – and of course, our biggest. It's now being described as one of the most important initiatives we have ever undertaken, representing an investment of more than 225 million dollars and a commitment to strategically partner with our customers. The project will also bring 40 new jobs to the Milton marketplace.
"Nestlé is now saying to us that they really see VersaCold as a partner that they want to grow with," says Mark Dienesch, Senior Vice President, Chief Commercial Officer, VersaCold Logistics Services. "They see the talent that we have been able to bring to them as a customer and they are excited to see what's next."
Needless to say, we're also very proud to be their partners in food and partners in cold.
A Few Fun Facts About the New VersaCold Milton Single-Site Facility
The new facility will handle an average of 30 inbound loads per day
An average of 60 loads will be shipped outbound daily
17 million cases of product will be received and shipped out each year
A whopping 22.4 million pounds of ice cream will be shipped out yearly – enough to fill 30 Olympic-sized swimming pools
More than 33 million individual pizzas will be shipped out each year – laid end-to-end, they would stretch across Canada almost one and-a-half times
The new facility will handle 51 million pounds of frozen meals each year – that's almost 70 fully-loaded 747 aircrafts