B&G Foods + VersaCold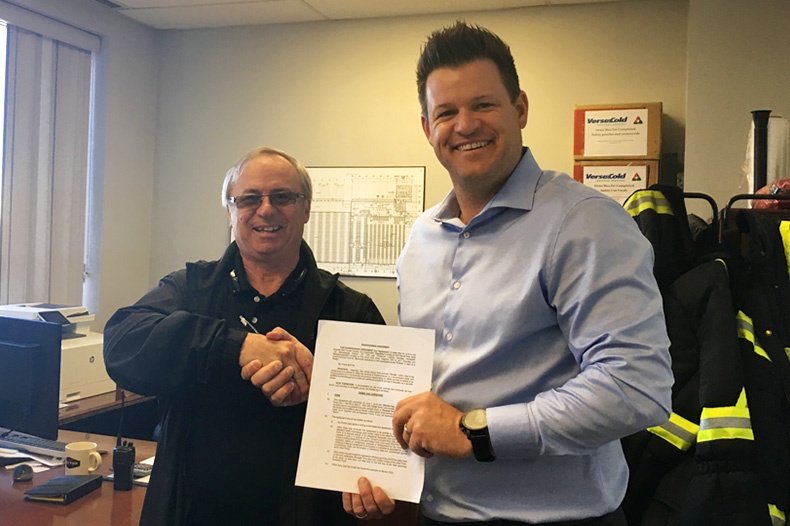 VersaCold is a food-first company. And the best way we ensure this is through dedicated partnerships.
As Director of National Accounts, Ian Sinclair works with VersaCold's key accounts to help them achieve their goals with custom solutions based on their corporate objectives and business requirements. His main goal is building a strong partnership with clients to better understand how to grow their business.
When B&G Foods, a food company with 125+ years of experience and 50+ iconic brands, were looking for a strategic partner in Canada, Ian knew VersaCold would be a perfect fit. The relationship evolved over the course of a year as the companies continued to build their trust and understanding of one another. For B&G Foods, finding the right partner was a huge decision, and for Ian that meant showing B&G how their food matters.
We sat down with Ian and Tom Heslin, Director of Distribution at B&G Foods, to discuss the consumer journey process and what makes a good supply chain partner.
Q: What do you look for in a supply chain partner?
TOM: There are two very important things: 100% order fill and on-time delivery. A good partner will manage your inventory on an automated system to make sure you always have the right product at the right time. Then, they have to get the inventory where it should be. It's about working with the transportation group to make sure they're hitting delivery times. If a customer says next Friday at 1pm, you have to be there next Friday at 1pm. A good supply chain partner has transportation management systems and warehouse systems in place to help manage that.
Beyond those two things, it's important to have a partner that can support national and international shipments, someone who is respected in the industry and someone who can work with us to support our business growth. We're always looking for someone with the skillset, expertise and facilities to grow with us.
Q: Ian, why do you believe VersaCold is a good fit for B&G?
IAN: The team at B&G were looking for a strategic partner, not a transitional partner, and we felt we could step up to the plate. VersaCold looks for relationships that are open and transparent. We want our partners to tell us when things are good, but more importantly when they're not good. Because of this open communication from the get-go, we're able to work together as a team.
When we ask for something, B&G delivers, and vice versa. We have 50/50 ownership in the process. As a result of that, we were able to forge ahead and start our partnership.
During the transition, every member of B&G's functional group was involved, from the corporate group to the Canadian Supply Chain arm. Rob Carse, Canadian Supply Chain Lead, and Vanessa Cruz, Supply and Demand Planning Manager, were an integral part of the extremely smooth transition. The open communication and collaboration across all teams made the process as seamless as possible.
Q: Tom, why do you believe VersaCold is a good fit for B&G?
TOM: One thing that stood out to me was the team VersaCold brought to the table. Not only did they bring the accounts team, but they also brought along members of the IT team, sales team and operational team to explain different facets of their organization and ensure both teams were comfortable moving forward with the partnership.
They also brought detailed plans and execution strategies to the table from the day we started to the day we went live. Each person in their organization would weigh in on how they were going to do it. At the end of the day, our staff at B&G just couldn't do all these things alone. We were confident that their large network could properly support B&G in both reducing costs and growing business.
Q: How can VersaCold continue to be a good partner for B&G in the future?
IAN: VersaCold is national, with a footprint in every major market across Canada. Using our industry knowledge, operational expertise, technology and expansive network, we can continue to drive more synergies and streamline their business further. Through continued investment in technology and our asset-based network, we can support B&G to, from and within Canada. As B&G grows their business, VersaCold can offer capacity in new markets to help grow their customer base and allow them to compete locally on a national scale.
We'll also continue to look ahead and work in collaboration on continuous improvement initiatives to help control costs and further streamline the supply chain. Day-to-day communication is key to ensuring that everybody is always on the same page.
We have a good foundation and our relationship is very strong. We'll continue to work with B&G to build the partnership, hand in hand. Because we really do believe that their food matters, and we'll stand by that every step of the way.