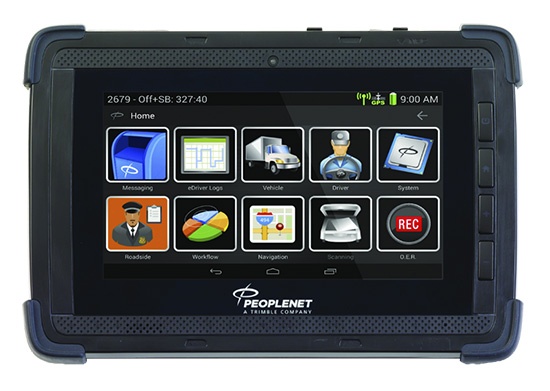 Technology is at the heart of everything we do in the supply chain industry and is the key to enhancing, differentiating and adding value to our customers' supply chain. As part of VersaCold's mission to provide innovative and integrated solutions to support our clients' current and future needs, we are pleased to announce the introduction of E-logs to the entire VersaCold fleet. What are E-logs and why do they matter for your company? Read more to find out how E-logs have transformed the supply chain industry.
What are E-logs?
Not too long ago, during a time when E-logs did not exist, truckers were asked to keep paper logs to account for their time spent throughout the day. Drivers would keep track of their status to provide evidence of driver accountability and compliance with regulations. As you may have guessed, not only were these logs more work for the driver, but they were often filled with inaccurate information. Sometimes, drivers could even falsify information if timelines were at stake. While the limitations of past technology made this a standard way of doing business, the invention of E-logs has become a game changer in the business.
E-logs such as People Net, used by VersaCold, are basically a tablet that connects to the ECM of a truck's power unit and, utilizing pre-programmed information, automatically generates status logs based on how the truck is operating. Leaving the logging of travel data to technology allows drivers to focus on more important aspects of their job – the safe and timely transport of their cargo.
How do E-logs help ensure regulatory compliance for customers?
E-logs cut out the inefficiencies that come with manual logging, while adding additional enhancements to ensure compliance for clients. Whether the driver is on duty, off duty or on patrol, the E-log accurately tracks what is happening throughout a 24-hour period. The enhanced accuracy of these E-logs provides the necessary data for compliance with regulations in the United States and, eventually, in Canada.
As many of you may already know, drivers operating in the United States will be required to use electronic logs by December 18, 2017, and it's up to the carrier to ensure compliance with this law. While it's not completely clear the effect this rule will have on the industry as a whole, carriers all over the United States are ramping up for the implementation of this new regulation. While Canada is not currently putting a similar law into effect, the need for cross-border compliance is likely to make the change over to electronic logs necessary for carriers who are also operating in the United States. That is why VersaCold, as part of its ongoing commitment to stay up to date with new regulations, offers transportation solutions that are fully compliant with the law.
---
Whatever the future holds for E-logs, we know that this innovative technology is the way of the future and a welcomed innovation to help ensure compliance going forward. E-log technology enables drivers to focus on the road ahead and ensures compliance with regulations through verifiable data. If you would like more information about VersaCold North American Transportation, please contact one of our Sales Specialists today and let us show you why we are the right choice for your business. sales@versacold.com or 1-800-563-COLD