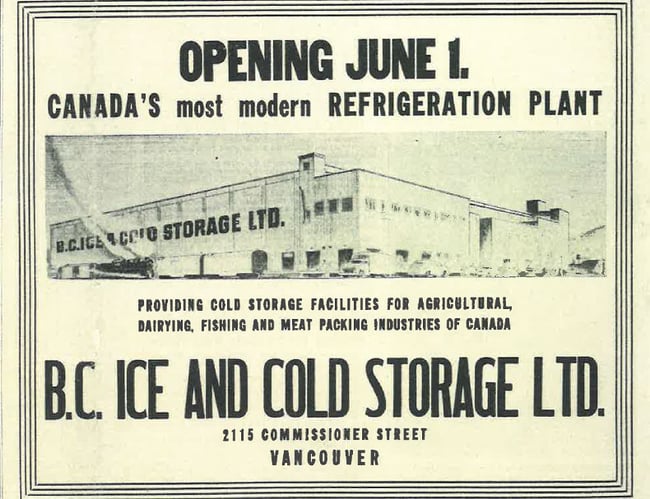 Since 1949, VersaCold has owned and operated the cold storage facility at 2115 Commissioner Street in Vancouver, BC. At its opening, the newly constructed Harbour facility was hailed as "Canada's most modern refrigeration plant," and it would eventually employ over 150 personnel, with a strong focus on the fishing and frozen goods industries. Over the past 70 years, VersaCold is proud to have operated this facility and to have become Canada's largest provider of supply chain services for temperature-sensitive and related products. However, just as the times and requirements of the industry change – we must change as well.
For this reason, we are announcing that VersaCold has been asked to vacate the property and allow the port to repurpose its use by removing the buildings and related infrastructure from the property. While our history will be tied forever to this location, we are excited to see what the future holds for this area. As the end of the facility lease with the Port of Vancouver approaches, to commemorate our long history at 2115 Commissioner Street, we wanted to take a look back through historical photos of this remarkable facility and what made it so innovative for its time.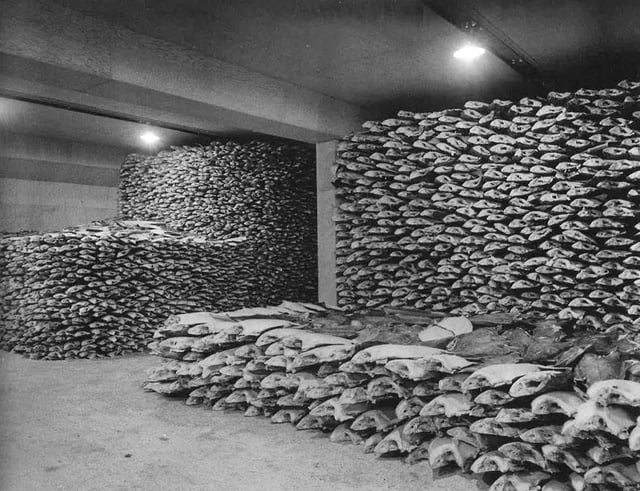 VersaCold's roots can be traced back 70 years to the creation of the BC Ice and Cold Storage Company Ltd. founded in Vancouver in 1946. BC Ice operated a small cold-storage and processing facility located on Vancouver's Burrard Inlet – adjacent to the site of the soon-to-be-built 2115 Commissioner Street facility.
In 1948, BC Ice began construction on the state-of-the-art structure that would come to be known as the Harbour facility. Opening June 1, 1949, the newly constructed two-storey building was hailed as "Canada's most modern refrigeration plant" and as "the last word in cold storage warehouse construction." Such lofty praise was well deserved for its time.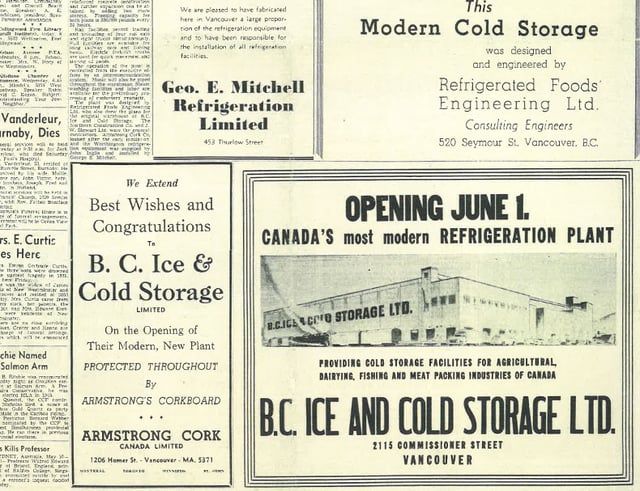 The new facility incorporated a "jacketed room" principle in which frigid air shot through sealed ducts embedded in floors and walls, preventing dehydration and loss of flavor. At the time, BC Ice was the only plant in Canada using this innovative principle and the first operation to install it in North America. Looking back, this facility proved to be just the beginning of VersaCold's proud history of innovation in the industry.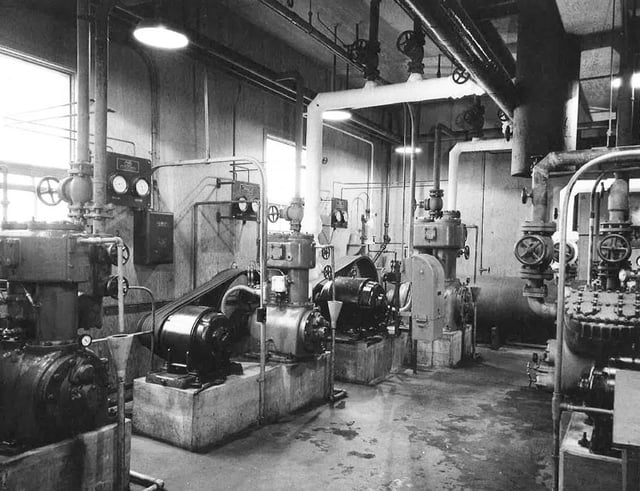 The Harbour facility offered 24 million pounds of cold storage and a freezing capacity of 350,000 pounds per day.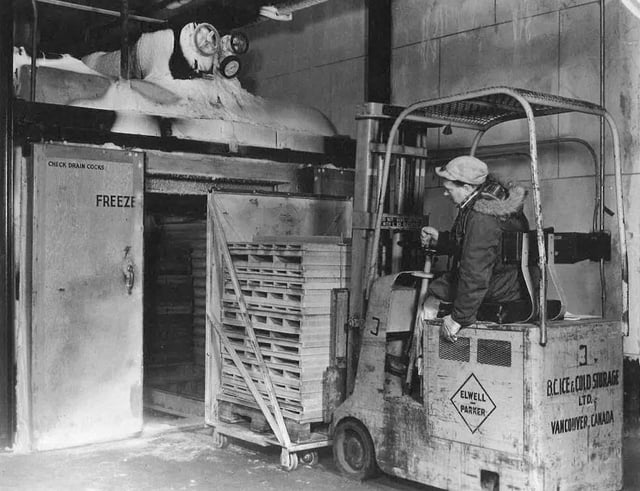 The new complex served agricultural, fishing, dairy, meat and at the time, a burgeoning frozen food industry.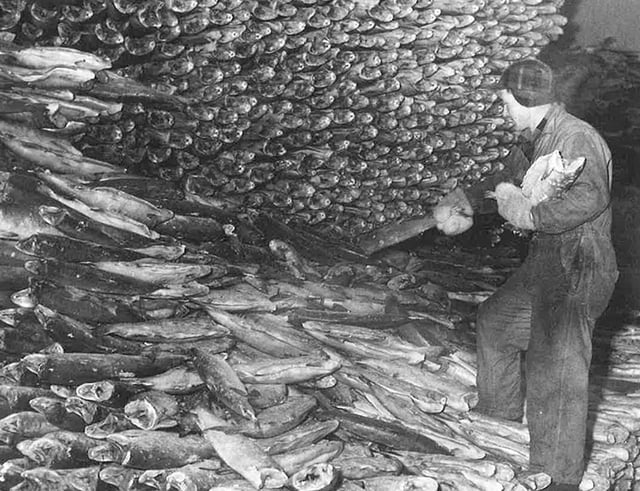 The facility also produced ice for both fishing vessels and rail cars.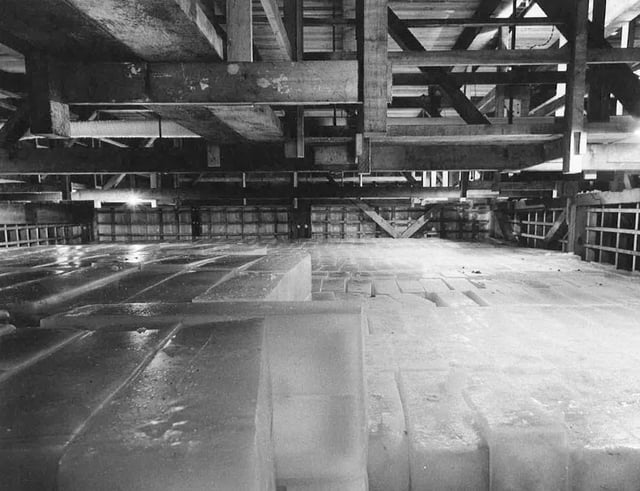 Eventually, a third and fourth floor would be added, along with the addition of a basement, which was dug by hand, providing additional cold storage space.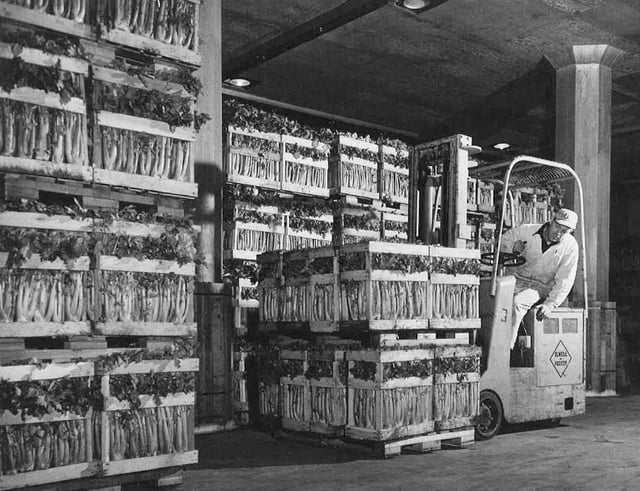 At its peak, the Harbour facility employed over 150 personnel, with a strong focus on the fishing industry. A full complement of specialized services included the unloading of fresh fish from boats, along with the washing, grading, freezing and boxing of fish products. Other services included brine freezing of live crabs, freezing of roe herring and trichinosis treatment of pork for export.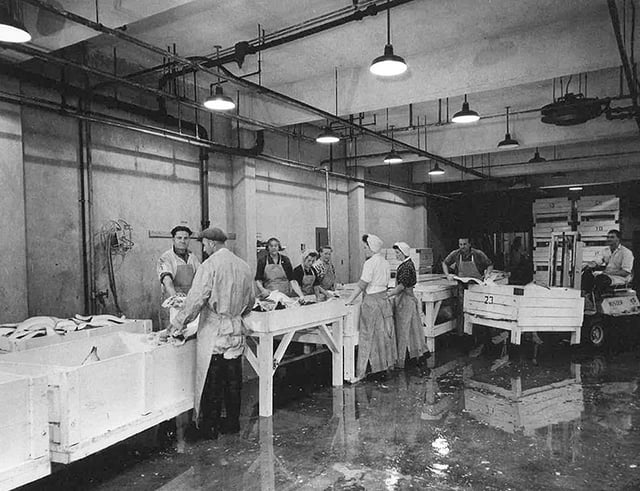 ------
If you have any questions in regards to the Decommissioning, Demolition, and Restoration Project, please contact the Project Information Line at 604-248-3934 or email 2115projectinfo@ghd.com.
If you have any questions or concerns regarding Port of Vancouver, please contact 604-665-9004 or email community.feedback@portvancouver.com.